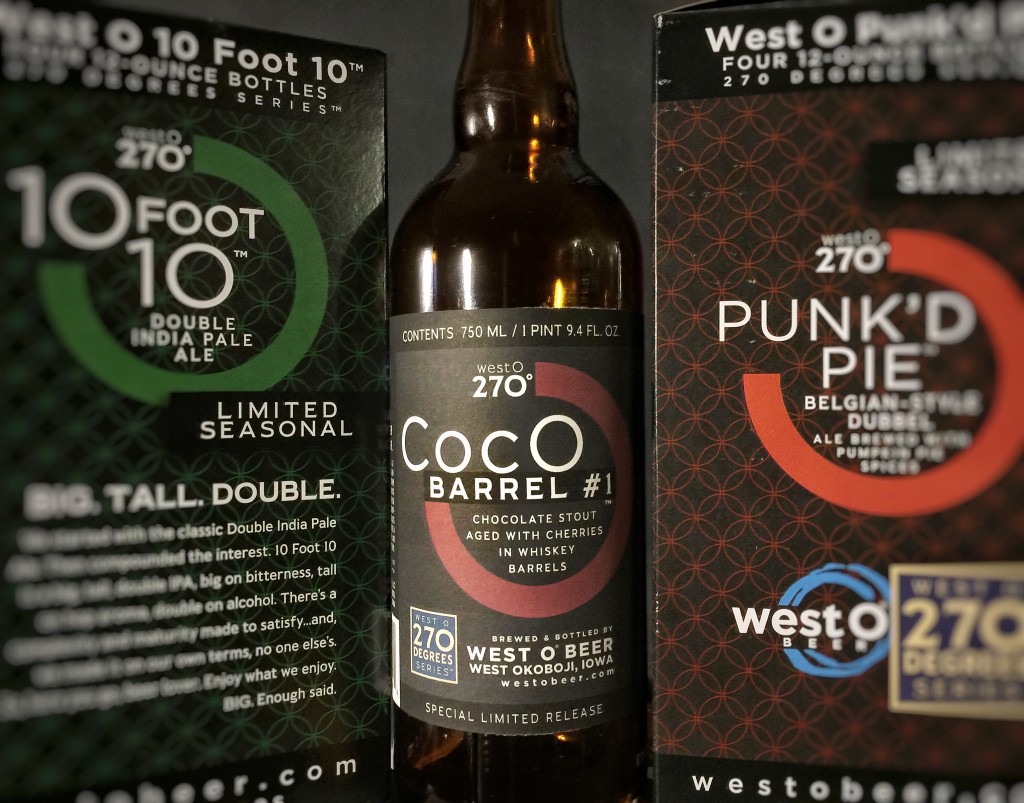 Our motto is "Brew Better Beer" and our mantra is "Keep Raising the Bar." As we have slowly been bringing most of our styles to the bottling line (that's more selections for you), we also have been planning special things for our premium beers. Say hello to the West O 270 Degrees* Series™ in premium packaging. 
West O CocO Barrel #1™ (available Dec. 17, 2016)
It's finally here, so we're having a tasting room release party. You read the label correctly. It's our double gold winning CocO Stout, aged in whiskey barrels with cherries, and packaged lovingly in 750ml bottles. Probably all the Christmas present you will need. This winner will be available only in the West O Tasting Room, and if you are snagging those coveted European-sized bombers, it's a two bottle limit. 7.5% ABV, 24 IBU  On tap and 750ml bottles (limit two) in tasting room only. Doors open at noon, Saturday, December 17.
West O 10 Foot 10 Double India Pale Ale™ (Limited Seasonal)
Double IPA with grapefruit and citrus notes from a nice balance of Summit, Cascade, and Ahtanum hops. Complexity and boldness = BIG. 10.10% ABV, 95 IBU On tap and bottles in premium four-packs.

West O Punk'd Pie Belgian Dubbel Pumpkin Spiced Ale™ (Limited Seasonal)
A combination of cinnamon, nutmeg, allspice, clove, ginger, and a bit of vanilla create a pumpkin pie flavor. Literally as big as its name. 7.5% ABV, 20 IBU  On tap and bottles in premium four-packs.
*You may wonder about the meaning of 270°. We like to think of it as a riddle for you to solve. Confidence is high.