Last Updated: 1/1/15:

 Bringing beer to new people means expansion and distribution. It's a job not to be taken lightly, because we expect our distributors to work like us at expanding our customer base and building our brand. If you are a distributor and would like to be part of the hardworking West O team, or if you want West O Beer in your retail location, don't hesitate to contact us and we'll put you in touch with the proper distributor.
 Current Beer Production Pace: 3500 gallons / month
 Next Production Goal: 7000 gallons / month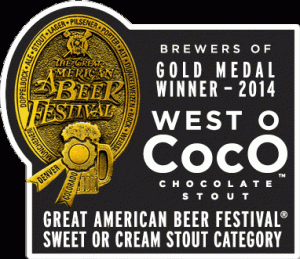 BIG COCO NEWS:  We are initially brewing and releasing 400 gallons of West O CocO stout a week. These batches will always be divided between keg and bottle accounts. We WILL increase production as needed and are prepared to brew 1,000 gallons of CocO per week, bear with us as we adjust production upward, according to demand.
Don't have us on draft yet, or maybe you can't get another line? Ask for bottles. We have plenty of four different styles: Pilsner, Smoked Red, Holy L IPL, and of course, CocO Stout.
FACT: We haven't had one issue with supply since our expansion in February of this year, 2014. We have filled all orders to distributors since our expansion. We can brew more of anything you want. We fill orders for our distributors on a weekly basis, trying to ensure you have the freshest beer in your hand. If we are short one week, more fresh beer is packaged, and we most certainly have it the next. If your distributor doesn't have what you need, all they have to do is order it. We have it. That's a fact.
And More News: Our West O Reseller Email News brings you information about our new beers, print campaigns, social media happenings, and more. If you are a reseller, it keeps you in the loop about West O Beer, and will help make your job easier to sell our beer. You and your employees are encouraged to sign up here and be a part of the process, because we're all in this together.
Our Promise: Beer is our life. Everything that we do is focused on making the best beer possible and getting it in your hand, as fast as possible, to enjoy. If you have any distribution issues or general questions, ever, call me any time. It's not an issue. I promise.
Thanks! Let's sell good beer.
Matt Matthiesen, Owner- West O Beer
cell- (712) 260-3715 
Distributors
Doll Distributing – Iowa
L&L Distributing – Iowa
Ike Auen Distributing – Iowa
Humes Distributing – Iowa
Arneson Distributing – Minnesota
Hagen Distributing – Minnesota
Johnson Brothers Famous Brands – South Dakota