Since we are closed Mondays, and Wednesday is the only available "W" day, it is fitting we offer our beer fans West O Wednesday. Every Wednesday it's a buck off pints, and there are discounts on growler fills as well. We usually throw in some Random Acts of Beer (RAOB) for freebie merch, too.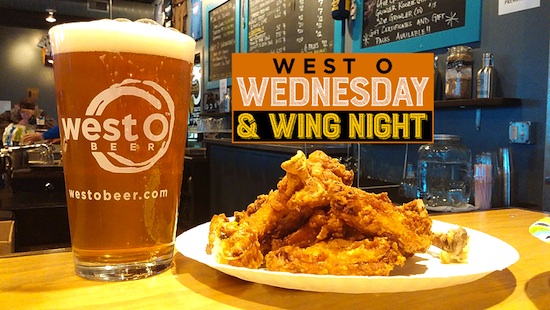 But wait, there's more: It's also Wednesday Wing Night. That's 50 cent wings from Sunshine Foods starting at 5:30 pm. ENDS MAY 25 FOR THE SEASON.
Knowing that you would not want to miss out on anything West O related, we also blast out our Big Fan Email Newsletter every Wednesday. This is not some marketing bozo blathering on for 10 paragraphs about nothing but blathering. Instead, it's our famous "Three Quick Things" highlighting our upcoming week. Short and sweet, and we often do the RAOB thing just for subscribers.
We'd love to have you as a Big Fan. Go here to sign up. See you on Wednesday!