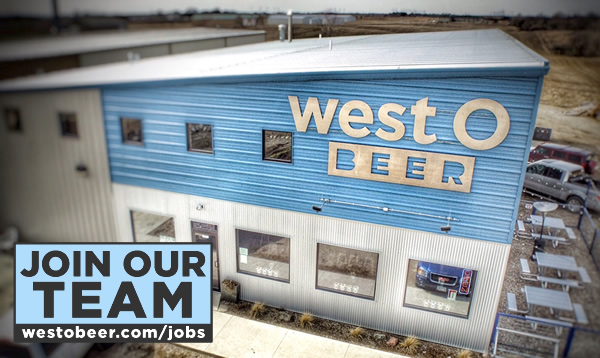 We are West O Beer. We are 100% Iowa Brewed. We have a great team, and we are growing. Our award-winning Okoboji-area microbrewery is always on the lookout for the right additions to our beer family. Perhaps you or someone you know is that right addition. If so, listen up, because here's who we are looking for right now:
OCTOBER 2020: SALES MANAGER
You want to be part of a fun growing brewery in the amazing industry of craft beer. You love talking to people about a good, consistent product that always seems to evolve into something new. You are self-motivated and take ownership in always finding ways to set and achieve goals. You love Okoboji, the Midwest and everything they stand for. And, at the end of the day, you love sitting down with friends over a pint of good beer.
We're looking for YOU.
Please email cover letter and resume to Matt: matt@westobeer.com or drop off in our brewery taproom at 503 Terrace Park Blvd, West Okoboji, IA.
CHEERS!
-Team West O
POSITION DETAILS:
On-Premise Sales (Draft Beer)
• Tracking annual and quarterly sales volumes and regional beer trends.
• Organizing quarterly and monthly goals and focus.
• Pre and post-trip communication.
• Closing sales and follow-ups.
Outside Events & Samplings
• Beer festivals.
• On and off-premise events & samplings.
Brand Representation
• You are the face of West O Beer.
• We win with customer service at all levels.
IDEAL QUALIFICATIONS:
Be a Leader
• Take ownership and full control of outside beer sales (stress on draft).
• Be self-motivated and willing to grow the position along with sales.
Be Organized
• Follow past sales numbers and what's happening with regional beer style trends.
• Formulate sales focus and goals based on above.
• Communicate focus and goals with distribution manager and sales staff.
Be a Winner
• Approach all sales from a customer service standpoint.
• Make the sale, close the deal.
• Communicate before and follow-up after/hold parties accountable.
Experience
• 1-3 years outside sales experience is required; food & beverage sales preferred.
• General knowledge of craft beer is preferred.
Benefits
• Company car, travel budget, laptop, group health insurance and brewery perks.